I just love the change in the air during fall.  It is my absolute favorite time of the year. Not too hot, not too cold, just perfect!  We recently had a "fall party" with our homeschool group.  It was a grand day.  We had beautiful weather and lots of yummy food.  We met at a park and had a wonderful time of fellowship and games.  We started out by eating (my favorite part).  I made a pumpkin cheese ball (recipe below.)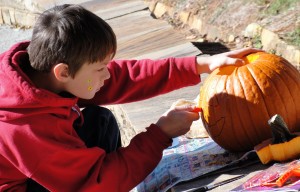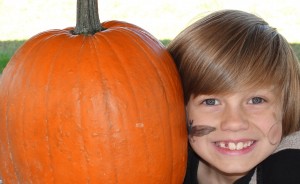 T-Rev and CB helped carve the pumpkin I used in the story I read to the kids (more on that to follow.)
Once everyone had their belly full, I read the kids the story of The Parable of the Pumpkin.  If you've never read it, you should.  It's a wonderful book for the young and old.  It tells of how we "shine" when we have the light of Christ in our hearts.  Here is a link if you're interested in checking it out.

After the story, we had the kids design "Fall Fairies" with items found in nature.  It was cool to see all the different creations!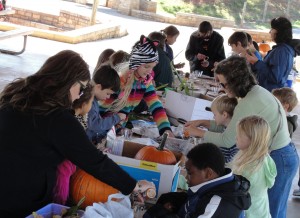 After the craft, we played "Fall Fun Games."  The first one (that I don't have any pictures of) was Ring the Pumpkin.  We used sewing rings to ring the pumpkin stem.  Next was Scarecrow Relay.  The kids were separated into three teams.  Each team was given the supplies to make a scarecrow.  The first team to build the scarecrow won.  This was a great hit!  After the game was over, the kids had a grand time playing in the hay.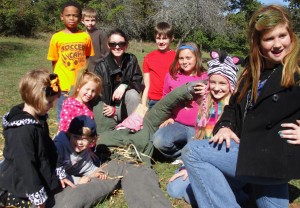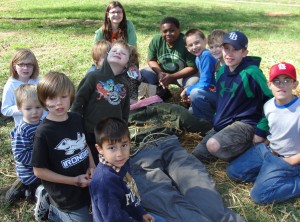 It was a really fun day!  We've had lots more fall fun that I'll post about later.  In the meantime,
Happy Fall Y'all!
Recipe for Pumpkin Cheese Ball (Taken from Taste of Home Recipes)
Ingredients:
1 package (8 ounces) cream cheese, softened
1 carton (8 ounces) spreadable chive and onion cream cheese
2 cups (8 ounces) shredded sharp cheddar cheese
2 teaspoons paprika
1/2 teaspoon cayenne pepper
1 celery rib or broccoli stalk
Sliced apples and assorted crackers
Directions
In a small bowl, beat cream cheeses until smooth. Stir in the cheddar cheese, paprika and cayenne. Shape into a ball; wrap in plastic wrap. Refrigerate for 4 hours or until firm.
   With a knife, add vertical lines to the cheese ball to resemble a pumpkin; insert a celery rib or broccoli stalk for the stem. Serve with apples and crackers. Yield: 2-1/2 cups.